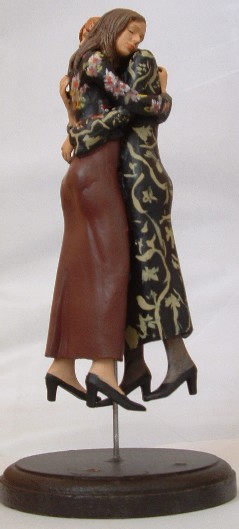 Dancing, Floating Willow and Tara from "Family"
This is Willow and Tara as they appeared in the Season 5 Episode "Family"
This figure depicts the dance scene where Willow and Tara dance on Tara's Birthday and they begin to float.
Willow was made from a Tara body and Smiley Willow head, along with a Smiley Willows arms and a Dark Willow Hand. Tara was made from a Tara figure and Smiley Willow lower arms.
Firstly i trimmed both the dresses and then filled the spaces on the bodies with Super Sculpey. i then glued the bodies together. I positioned Tara's head on Willow's shoulder and then positioned Willows head on Tara's shoulder, gluing them both in place. i sculpted Willow's top part of her dress and then sculpted Tara's blouse. I also sculpted over both of their buttocks to give them more shape. Willow's arms were glued to her shoulders and positioned around Tara's waist. Tara's arms were made using the bottom of Willow's arms. i glued these into place, then sculpted the rest of her arms. i then sculpted the sleeves on both the figures.
Finally i sculpted their hair. Flowing gently in the direction of their bodies. I then gave the figures a complete repaint. I painted Willow's dress black with a yellowy motif. i then painted Tara with a purple-burgundy skirt and a flowery blouse. i painted both the girls eyes closed, to make them look peaceful. i finished the painting by painted the hair, Ginger for Willow and Brown for Tara.
The base was made using a 12" Figure stand, i drilled a hole in the centre of the base and then added a piece of wire, which was glue to the gap between the two figures. This was to give the effect of floating.
This was sold on eBay and now lives in the UK alongside ONCE MORE WITH FEELING WILLOW AND TARA.