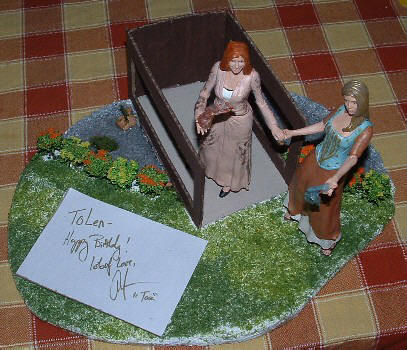 Once More With Feeling Willow and Tara
This is Willow and Tara from the musical episode "Once More With Feeling". Tara is made from a Tara head and a Cordelia Body. I sculpted her entire dress and hair. Willow is made from a Drusilla Body and a Smiley Willow Head. I sculpted the front of her dress and hair. Both Willow and Tara have a magic stream in their hands. This is made from Hot Glue and paint. I made the base diorama and got the beautiful Amber Benson to sign it at London Expo 2005. She loved it. The signature was made out to the buyer and she even wrote Happy Birthday for him. This is the second figure that Amber Benson has signed for me, she remembered me too, she even gave me a free autograph. The other figure that Amber has signed for me is LOVERS TILL THE END WILLOW AND TARA.
Willow and Tara now live in the UK, along side DANCING, FLOATING WILLOW AND TARA.