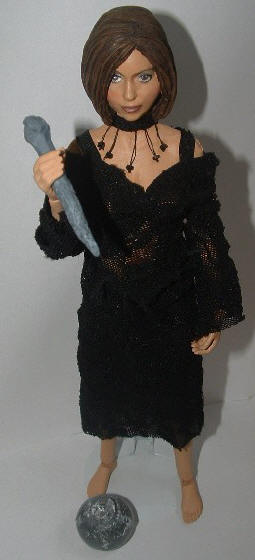 "Evil Pregnant" Cordelia
This is Cordelia as she appeared in the Season 4 episodes of Angel, Orpheus and Players
This is the second ever 12" Cordelia figure.
She is made from a 12" Hush Buffy Body from Sideshow, Willows Feet and a mould of the Cordelia Bust. I first created the mould (thanks Shivi) and then attached it to the Buffy Body. I sculpted her short "evil" hairstyle and also enhanced her chest to make it more Cordelia like. I then sculpted her pregnant belly, complete with Connors handprint.
I then painted the whole thing with a tan colour, typical of Cordelia and I then painted her eyes, lips and hair. Her lips and eyes have a glossy finish.
I then made the clothes from scratch. Using a black lacy material for the long shirt and skirt. I made tassels which are on the bottom of the shirt and I also made the necklace. I made her the beast knife and I also made the Mopeen from Resin and silver paint.
CORDELIA IS NOW ON EBAY, PLEASE GO HERE