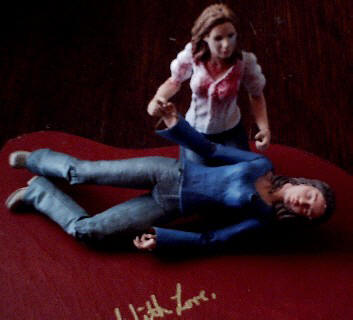 Til Death Do Us Part Willow and Tara
This is Willow and Tara from Tara's death scene in Season 6. Willow is holding Tara after she was violently shot by Warren.
Willow was made from a Buffy 2 torso, a Willow head and sculpted legs. Tara was made from a Doppleland Willow body and a Deana from POTA.
I sculpted Willows blown back hair and gave her swirly red eyes. She also has silver tears. I gave her some blood splatters too.
I sculpted Tara's hair and painted her eyes closed. The base is made from thin wood, painted like the carpet in their room. Amber Benson signed this for me, she loved it, although her figure is dead.
Willow and Tara was sold on eBay and now live in London.