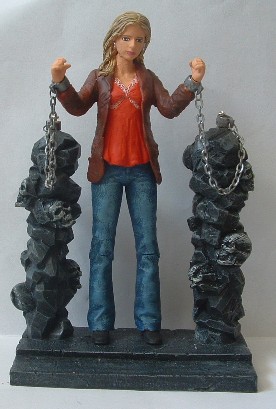 Buffy from "Crush"
This is Buffy from the Season 5 Episode "Crush".
This show Buffy chained up in Spike's crypt. Trying to prove that he loves Buffy.
Buffy is made from Willows legs and a Buffy 2 upper body and head. i sculpted her silky top with lacy trim and i then sculpted her jacket. i sculpted her arms in that position. i then sculpted her season 5hair and earrings. i used Willow's chains and Drusilla's base. i added a small screw to each post that the chains then hook around. i painted Buffy with her season 5 tanned look and light hair and then painted her clothes. This figure has an authentic likeness to Sarah Michelle Gellar.
Buffy does not come with any accessories, as she cannot use them, she is chained up!