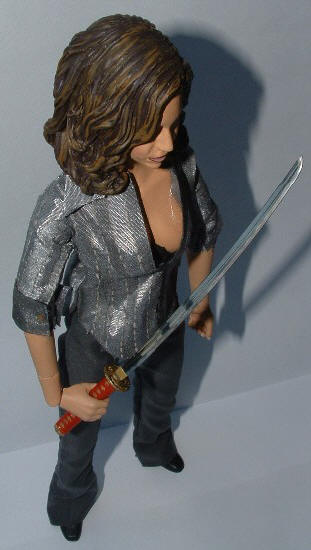 Cordelia from "You're Welcome"
This is Cordelia from her last episode of Angel, in the 100th Episode, You're Welcome.
This is the first ever 12" Cordelia figure.
She is made from a 12" Faith Body from Sideshow and a mould of the Cordelia Bust. I first created the mould (thanks Shivi) and then attached it to the Faith Body. I sculpted her shoulder length curls and also enhanced her chest to make it more Cordelia like.
I then painted the whole thing with a tan colour, typical of Cordelia and I then painted her eyes, lips and hair. Her lips and eyes have a glossy finish.
I then made the clothes from scratch. Using Thai Silk for the shirt and a grey material for the trousers. The sword is a 1/6th scale replica, which I repainted to be correct.
Cordelia will also have a custom box (thanks Digital Leonardo)
CORDELIA IS NOW ON EBAY, PLEASE GO HERE