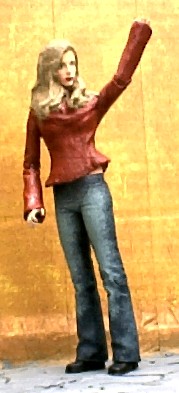 "Once More With Feeling" Buffy
This is Buffy as she appeared in the final moments of the musical episode, Once More with Feeling.
Buffy was made from a Buffy 2 head and a Doppleland Willow body. I sculpted her top and hair. I then gave the top a silky sheen over the top using a silver wash. I gave the jeans a worn denim effect and gave the hair multi tones and highlights.
I painted her face using light flesh tones and gave her blushed cheeks and bright red lips, accurate to the episode.
Buffy's arm is sculpted in the up position, to give the figure a sense of movement.
I am very happy with this figure, this was one of my first, maybe my 4-5.