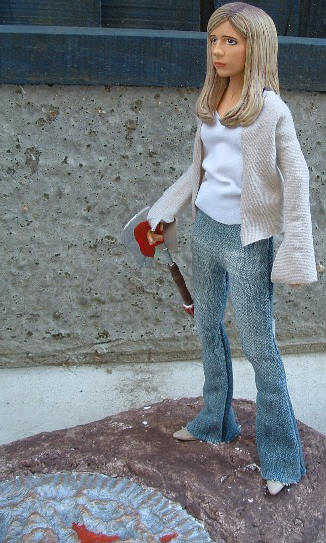 Buffy from "Chosen"
This is Buffy Summers from the Season 7 Finale "Chosen". I used a Hush Buffy Figure from Sideshow.
I chopped off her original hair and then resculpted her Season 7 style hair, which was more appropriate for the episode and figure. I used pictures of the upcoming 6" Version to get the hair right.
I then gave the figure a complete repaint, using tones that suited the lovely Sarah Michelle Gellar. I gave her new eyes and fuller lips which gave her a great likeness. Her eyes, lips, leather boots and scythe all have a glossy finish.
The clothes were made from scratch. I used a white material for her under shirt and beige material for her jacket which I painted the design onto. I used light blue denim for her jeans and added fading to them.
I also made her a special base as its the final episode. I made the base from plywood, which I covered with Sculpt-a-mould. I made the seal from cardboard and more sculpt-a-mould, I then covered it with PVA glue and tissue paper for the effect. I pushed it into the sculpt-a-mould and then sculpted over the edges slightly, I then painted it and added red paint with a gloss finish for blood. The stand was then pushed into the sculpt-a-mould and sculpted over to hid some of it.
Buffy has the Ultimate weapon, the Slayers Scythe, which I made from a 6" Figure weapon. Buffy was sold on eBay.