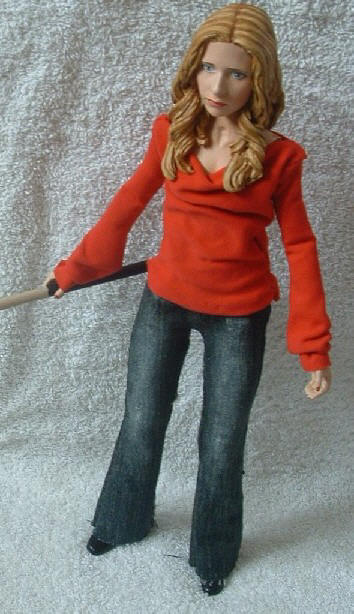 Buffy from "Something To Sing About"
This is Buffy Summers from the Season 6 Musical Episode "Once More With Feeling". I used a Hush Figure from Sideshow. This is my second attempt at this figure, as the original was my first ever figure, I thought that this needed to be done to show how my skills have improved.
This is the FIRST figure in a line of 6 "EXCLUSIVE" Once More With Feeling" Buffy Figures.
I chopped off her original hair and I then extended her forehead. I then resculpted her Season 6 Curly hairstyle, which was more appropriate for the episode and figure. This is by far my best hair sculpt, its the most lifelike hairstyle I have achieved.
I then gave the figure a complete repaint, using tones that suited the lovely Sarah Michelle Gellar. I gave her new eyes and fuller lips which gave her a great likeness. I gave her pale skin, blushed cheeks and bright red lips.
The clothes were made from scratch. I used a red silky material to make the top and denim to make the jeans.
Buffy has a snooker cue to beat up the baddies.
I REPEAT, THIS IS A REMAKE OF MY 1ST FIGURE