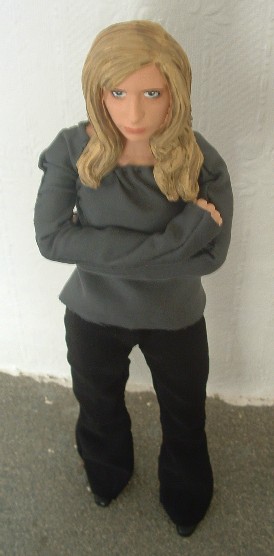 First Evil Buffy from "Get It Done"
This is the First Evil impersonating Buffy Summers from the season 7 episode "Get It Done". I used a Hush Buffy head on a Willow Body from Sideshow.
I chopped off her original hair and then resculpted her season 7 hairstyle, this hairstyle was more appropriate for the episode and figure.
I then gave the figure a complete repaint, using tones that suited the lovely Sarah Michelle Gellar. I gave her new eyes and fuller lips which gave her a great likeness. I have her dark shadows under her eyes which gave her a great likeness for the First Evil.
The clothes were made from scratch. I used a grey thin material and gathered the top up and made her some black trousers.
Buffy does not come with any accessories. Buffy is not finished yet, but when she is, she will be on eBay.