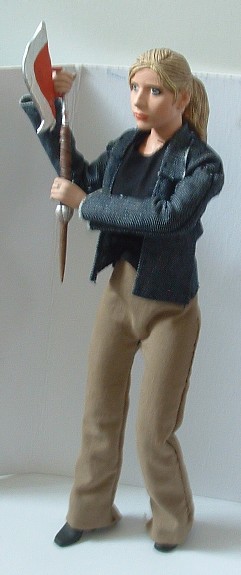 Buffy from "End of Days"
This is Buffy Summers from the Season 7 Episode "End of Days". I used a Graduation Day Figure from Sideshow.
I chopped off her original hair and then resculpted her Season 7 style hair with ponytail, which was more appropriate for the episode and figure.
I then gave the figure a complete repaint, using tones that suited the lovely Sarah Michelle Gellar. I gave her new eyes and fuller lips which gave her a great likeness.
The clothes were made from scratch. I used a black material to make the under shirt and a khaki material for the trousers. I made the denim jacket from thin denim.
Buffy has the Ultimate weapon, the Slayers Scythe, which I made from a 6" Figure weapon. Buffy was sold on eBay.